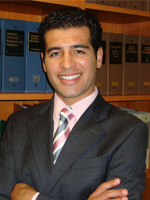 About Pablo Palomino
Pablo C. Palomino is the Principal and Founder of Legacy, APC – a law firm solely dedicated to the preservation, protection and distribution of Trusts and Estates.  
Pablo established Legacy in 2006 after several successful years at the estate planning boutique law firm of Armstrong, Fisch and Tutoli. He is fully bilingual and uniquely skilled to serve Spanish-speaking clients throughout California. Most days Pablo is partnering with clients and their wealth management advisors to design tailored estate plans. When he is not counseling and empowering clients in this effort, his main focus is to educate them about the myriad options they have with respect to building, preserving and distributing their legacy in ways that are most important and efficient to them. To this end, he has conducted scores of seminars, has published numerous reports and articles throughout the community and has been quoted in the Wall Street Journal. Additionally, Pablo regularly appears on radio and television.  
Pablo graduated with bachelor's degrees in Economics and Rhetoric from the University of California at Berkeley. While at UC Berkeley, Pablo also spent a semester abroad studying at the Autonomous University of Mexico (UNAM). Pablo received his Juris Doctor degree from the University of Southern California and immediately passed the bar upon graduating from Law School.
Pablo is admitted to practice before all the courts in the state of California and the United States Federal Court. He is actively involved in several professional organizations including the State Bar of California, the San Diego County Bar Association, the San Diego Barrister's Club, the San Diego County Hispanic Chamber of Commerce. He has been a Board Member with San Diego La Raza Lawyers Association for several years and serves on the Board of Trustees with Inter American College.
Pablo frequently travels to his native paradise of Puerto Vallarta. One of his longtime passions is the practice of Hatha Yoga.